I know January is almost over. But since some people still have their holiday decorations up, I don't see why I shouldn't share more pictures of New York City during the holidays with you.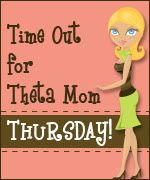 And since it's
Time Out Thursday
, I am taking the opportunity. In case you are unfamiliar with
Time Out for Theta Mom Thursday
, the goal is to join the party on the last Thursday of every month and share with other Theta Moms how you spent an hour alone, meaning, without the kids!
So if you are interested in joining the party or reading about how other Theta Moms spent their time out, head on over to
ThetaMom.com
.
For the third installment of Holidays & The City, I am going to take you window shopping on 5th Avenue with me and my friend, Bethsy. She was here for 2 weeks during the holidays and made sure that we left the house EVERY DAY!
New York City is filled with high end retail stores, ones that my pockets are deep enough to even by a key chain in! But that didn't stop us from walking around for hours and looking at the fabulous holiday window displays.
First stop, Cartier!
Then, Fendi!
We also had to stop by Armani Exchange. I'm the one with the white coat and the disturbed looking girl behind me is Bethsy's sister. Because it was FREEZING!!!
Louis Vuitton...
And finally, Tiffany's!!!
We went inside to warm up a bit. So many beautifu pieces of jewelry and so little money...How depressing! And they have an ENTIRE FLOOR just for engagement rings! We went up there to pick out rings for Bethsy and her sister, even though they are both single. Crazy, I know, but SOOOO much fun. And then we snuck (or is it sneaked?) into the 'ladies lounge' to use the restrooms and take a picture.
And
please
remember to vote for me on
Top Mommy Blogs
by clicking
Top Mommy Blogs
or on the button on the right sidebar. All you have to do is click!