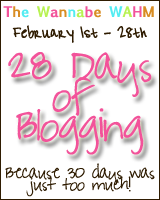 Tomorrow marks the start of my month of blogging!
After trying unsuccessfully in January, I have decided to take another crack at it this month.
I hope you will stop by often, I have some featured bloggers to introduce you to, as well as more NYC pictures and some pics of our trip to the Dominican Republic. And I have found some great sponsors that will be giving away their products to lucky readers of this blog!
If you're feeling a little pumped, why don't you join me?
I'll be posting a McLinky tomorrow on the first post of the month. Link up to let others know that you will be joining me in this insanity!!!
Feel free to grab my "28 Days of Blogging" button if you are joining me, or just to show some support!
See you tomorrow!!!