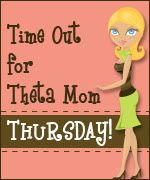 It's Thursday again and I am so excited to share my time-out with you!
Thursday is the day to share your 'time-out' and link up to
Theta Mom
.
In case you are not familiar with Theta Mom (which I doubt, but if you are not... shame on you!) let me explain. She had a brilliant idea called "Time Out for Theta Mom Thursday." The goal is to grab one hour of time within one week to do whatever you want…without the kids. On Thursdays, you post how you spent your "time out" and add her button or link in your post. Make sure to stop by to see how Theta Mom and other mom bloggers spent their time-out!
I spent about 4 days completely out of commission since Friday. I had to leave work early because I was feeling funky. I am not going to bore you or gross you out with the details. Let's just say it was non-contagious and I was in bed for a few days.
So my time-out this week was spent in bed, sleeping! I miss my sleep. And even though I was sick it was really nice to just be in bed and have hubby and/or my mom take care of Sophia.
I am anxious to see what my other Theta Mom's did this week for their time-out.
Before you go
, if you haven't done so already, please ready yesterday's post
Would You Hire a Young/Attractive Nanny?
and give me some input? I would really appreciate it!!! It's a funny post (if I do say so myself).
And if you think it's not funny, just leave me a comment telling me what a total waste of your time it was!