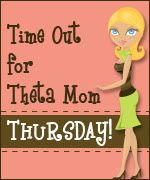 It's Thursday again and I am so excited to share my time-out with you!
Thursday is the day to share your 'time-out' and link up to
Theta Mom
.
In case you are not familiar with Theta Mom (which I doubt, but if you are not... shame on you!) let me explain. She had a brilliant idea called "Time Out for Theta Mom Thursday." The goal is to grab one hour of time within one week to do whatever you want…without the kids. On Thursdays, you post how you spent your "time out" and add her button or link in your post. Make sure to stop by to see how Theta Mom and other mom bloggers spent their time-out!
I had a few time-outs this week. I am super excited to share with you. First, I spent an awesome night with the ladies of
Aiming Low
and other bloggers in NYC last Wednesday. You can read all about
here
.
Then, Thursday morning I was invited by my friend to be an audience member on
The View.
The celebrity guests that day were Wanda Sykes and STING! You can read all about my Sting obsession
here
. All the details about that will be posted next week. Pics included.
But today I want to share with you the best-time out which I had this Sunday night. My mom and I went to the movies! It's very rare now that I have a baby that my mom and I hang out, just the two of us. She wanted to see the Michael Jackson movie 'This is it' and invited me to go with her.
We had a great time. We danced in our seats the whole time. Putting aside all the allegations of child molestation (only 2 people know for sure what happened, the kid and MJ), Michael Jackson was truly a musical genius. He was unbelievably talented and it was very interesting to see how he was involved in every aspect of the show that he was putting together. I feel bad for him because he died before he even got to take his show on the road. And I feel bad for all of his fans that were ready to see him perform live in the UK. It was going to be a magnificent show!
I'm excited to see what you girls did this week with your 'time-out'!
One more thing!!! My friend Ashley from
Confessions of a First Time Mom
is doing a blog makeover giveaway! I redesigned her blog and you could be next!!! Enter
here
.