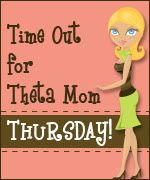 It's Thursday again and I am so excited to share my time-out with you!
Thursday is the day to share your 'time-out' and link up to
Theta Mom
.
In case you are not familiar with Theta Mom (which I doubt, but if you are not... shame on you!) let me explain. She had a brilliant idea called "Time Out for Theta Mom Thursday." The goal is to grab one hour of time within one week to do whatever you want…without the kids. On Thursdays, you post how you spent your "time out" and add her button or link in your post. Make sure to stop by to see how Theta Mom and other mom bloggers spent their time-out!
This week's time out was very uneventful but VERY enjoyable!
This week...
Get ready...
This week, I took a nap!
Jealous much?!
I haven't slept during the day since I gave birth (at the hospital)!
On Monday, Sophia went down for a nap at about 11am and so did mommy! And Sophia was extra nice and actually went right to sleep! Which means I got a good hour sleep before continuing our day.
It was soooo refreshing to take a nap in the middle of the day. I woke up energized, ready to take on the afternoon with fully charged batteries. I think I should really make it a habit to sleep at least 1 nap a week. I work pretty hard every day! I think a liitle shut eye is well deserved :)
What did you do on your time-out this week?
P.S. Enter my first giveaway ever! Win a Personalized Diaper Cake featuring JoJo Giraffe (seen on the hit tv show HOUSE)!!! Click
here
to enter.
Also, please vote for me at Top Baby Blogs by clicking
here
or clicking on the banner on the top (all you have to do is just click). Thanks!!!