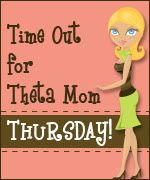 It's Thursday again and I am so excited to share my time-out with you!
Thursday is the day to share your 'time-out' and link up to
Theta Mom
.
In case you are not familiar with Theta Mom (which I doubt, but if you are not... shame on you!) let me explain. She had a brilliant idea called "Time Out for Theta Mom Thursday." The goal is to grab one hour of time within one week to do whatever you want…without the kids. On Thursdays, you post how you spent your "time out" and add her button or link in your post. Make sure to stop by to see how Theta Mom and other mom bloggers spent their time-out!
This week's time-out was unplanned. I was getting ready to make my cousin a diaper cake, more on that later on, and I couldn't find anything (ribbons, glue gun, etc.)! My hubby goes into OCD mode sometimes and 'cleans' the house, which really translates into shoving everything into whatever little nuck or cranny he can find. House looks great but try to find anything in that mess!
There is a point to this rant, I swear!
Instead of getting made that I couldn't find anything, I decided to take a 'time-out' and create a space for myslef in our home. I moved some furniture around, repurposed an old kithen table from Ikea and created a little office for myself in out kitchen! :)
I am so excited to have this little corner to call my own. I orginized all my crafting supplies and set out to create my diaper cake. I have never made a diaper cake so quickly. Having my own space enabled me to get creative and be productive.
And in case you are wondering, after three hours of searching, my ribbons were in a bag inside of a bag that I was going to take to the Goodwill the very next day.