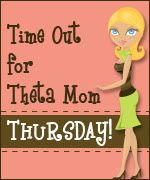 It's Thursday again. How did this week go by so fast?
Thursday is the day to share your 'time-out' and link up to
Theta Mom
.
In case you are not familiar with Theta Mom (which I doubt, but if you are not... shame on you!) let me explain. She had a brilliant idea called "Time Out for Theta Mom Thursday." The goal is to grab one hour of time within one week to do whatever you want…without the kids. On Thursdays, you post how you spent your "time out" and add her button or link in your post. Make sure to stop by to see how Theta Mom and other mom bloggers spent their time-out!
As you may have already heard, Sophia has Roseola and I didn't think I was going to be able to get my time-out this week. But her rash is almost gone and yesterday she was back to her regular schedule. She took a super long nap in the morning. I took that opportunity to take my time-out!
As soon as she fell asleep, I headed for the bathroom! I got in and took a nice long hot shower. I washed my hair, even had time for 3 shampoo's and some conditioner! I shaved my pits (hadn't noticed I was growing a forest down there, yucky I know!). I didn't get a chance to shave my legs but you guys should now by now that I save that for special occasions ;-)
After my bath, I gave myself a mini-pedi. Flip-flops are comfy but they are not good for your feet. On a side note, has anyone used the 'Ped-Egg' I see on TV all the time? I'd love to hear your thoughts.
Anywhoo, I pampered myself for my time-out this week. I didn't have to take what I refer to as a 'mom bath' which is very similar to a cat bath, but you have to be a mom :)
Did you take a time-out?