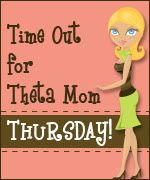 It's Thursday again.
Which means it's time to share your 'time-out' and link up to
Theta Mom
.
In case you are not familiar with Theta Mom (which I doubt, but if you are not... shame on you!) let me explain. She had a brilliant idea called "Time Out for Theta Mom Thursday." The goal is to grab one hour of time within one week to do whatever you want…without the kids. On Thursdays, you post how you spent your "time out" and add her button or link in your post. Make sure to stop by to see how Theta Mom and other mom bloggers spent their time-out!
Last week I wasn't able to join in on the linky fun because I didn't get a time-out but last Thursday after work I went out for a girls night with a friend from work.
At 4:50PM we fixed our hair and applied a little make-up (big deal for me, it's been a while). At 5PM on the dot we were at the front of our office building hailing a cab and headed to the West Village.
We ended up having a few beers at a bar that NYU students hang out in. Some of them were playing beer pong. I had heard of this game before but I never actually seen anyone play. My friend and I actually got suckered into playing and thank God she has good aim because my night out would have taken a horribly drunken turn if it had not been for her. We actually won!
Unfortunately, by the time I got home Sophia was asleep. Of course, I snuck into her room to take a peak :)
It was so nice to get dressed up and feel sexy. I finally lost all of my baby weight and I am ecstatic!
Bad new is I am still flabby and I might actually have to bite the bullet and exercise...
I promised myself that next week I will take a time out that does not involve drinking. Maybe a massage?
Until next Thursday...
P.S. Have you noticed that this is my 3rd post this week? If you haven't already, check them about below.