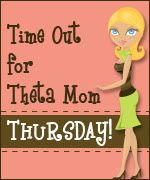 It's Thursday again.
Which means it's time to share your 'time-out' and link up to
Theta Mom
. In case you are not familiar with Theta Mom (which I doubt, but if you are not... shame on you!) let me explain. She had a brilliant idea called "Time Out for Theta Mom Thursday." The goal is to grab one hour of time within one week to do whatever you want…without the kids. On Thursdays, you post how you spent your "time out" and add her button or link in your post. Make sure to stop by to see how Theta Mom and other mom bloggers spent their time-out!
Last Friday was a friend's birthday. My mom came over to take care of Sofia (which translates to watching TV on our couch since we have been blessed with a 'sleepy head' baby that has been sleeping through the night since she was 6 weeks old).
Hubby and I met up with 2 other couples to celebrate. Since it was the first night out in a very long time for me, I decided to get get my drink on! Luckily for our bank account, I am a cheap date. Two drinks into it I was giggling like a giddy school girl (I don't know why I like to use this reference so much...) and by drink three, I was ready to start trying to make baby #2!
So we played some pool...more like, I watched everybody else play pool. God did not give me the gift of hand-eye coordination but he did give me the gift of fabulousness personified in my little baby, so we're cool.
We sang 'Happy Birthday' and shared some cupcakes. All my hard work dieting in order to be able to zip up my skinny jeans without feeling like I might become sterile from skishing my insides...down the drain, but dammit, I LOVE cupcakes!
And as you may recall from your pre-baby days, drinking leads to craving breakfast food at 1 am. And I had already blown my diet by drinking and eating a cupcake, so what the hell! Hubby and I headed to a diner to get our grub on. Guess what I ordered? Come on! It's not fun if you don't guess...
French toast with syrup and bacon!
I know what you are thinking... But I had never eaten french toast until I was 8 months pregnant and it was heaven. I had not had any ever since and I wanted to know if that was just the pregnancy or if in fact it was a clogged artery wrapped up in deliciousness. Verdict? It still tastes like HEAVEN!
So, did you take a 'time-out' this week? Link up to Theta Mom and share with us!
And in case you are wondering, by the time we got home we were so exhausted that drunken sex was not an option. Maybe next time ;-)