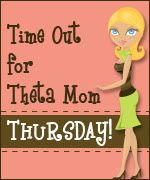 Theta Mom
had a brilliant idea called "Time Out for Theta Mom Thursday." The goal is to grab one hour of time within one week to do whatever you want…without the kids. On Thursdays, you post how you spent your "time out" and add her button or link in your post. Make sure to stop by to see how Theta Mom and other mom bloggers spent their time-out!
Instead of an hour, I took a day all to myself. My work schedule has been reduced to a 3-day work week due to the economy so I was able to get away during a week day. A friend from work recently moved to the Jersey shore and invited me to spend the day with her. I packed my 'mom bathing suit' (there are parts of my body that will never see the light of day. never.) and away I went.
I live in New York so I had to drive about an hour and a half but it was so refreshing to be able to just drive. No worries about what the baby is doing in the back seat or having to keep the music low because I don't want her to blow out an eardrum! I blasted Michael Jackson's Greatest Hits and cruised to the Jersey shore.
We immediately headed to the beach where we had sandwiches and took in the sun and the breeze. I had not been to the beach in years! I am pasty pale and I'm Latin! That just doesn't make sense! After a few hours in the sun, we got 'thirsty' so we went back to her place. But before we made it home, we drove around and she gave me a mini tour of the area. There is a cute little pub at the end of her block that opens and 4pm so we had a beer and played shuffle board (never played it before... turns out, I suck. beer didn't help much either).
After our beer, we headed back to her house where her husband had prepared a Mexican feast! He even made his own tortillas! And, of course, MARGARITAS!!! I only had one because I would have to eventually drive back home. After dinner, we had coffee (I had 2) and talked as we sat in their backyard.
I didn't want to leave but I had to go. Even though Sophia would be asleep by the time I got home, I missed her sweet little face. I had an amazing time with friends and it's been a while since I felt like me (insert name here) and not just Sophia's mom.
I look forward to more time-outs for The Wannabe WAHM! I felt refreshed, giddy, happy, and excited all at once when I got home. I REALLY need a time-out!
Have any of you taken a 'time-out' recently?